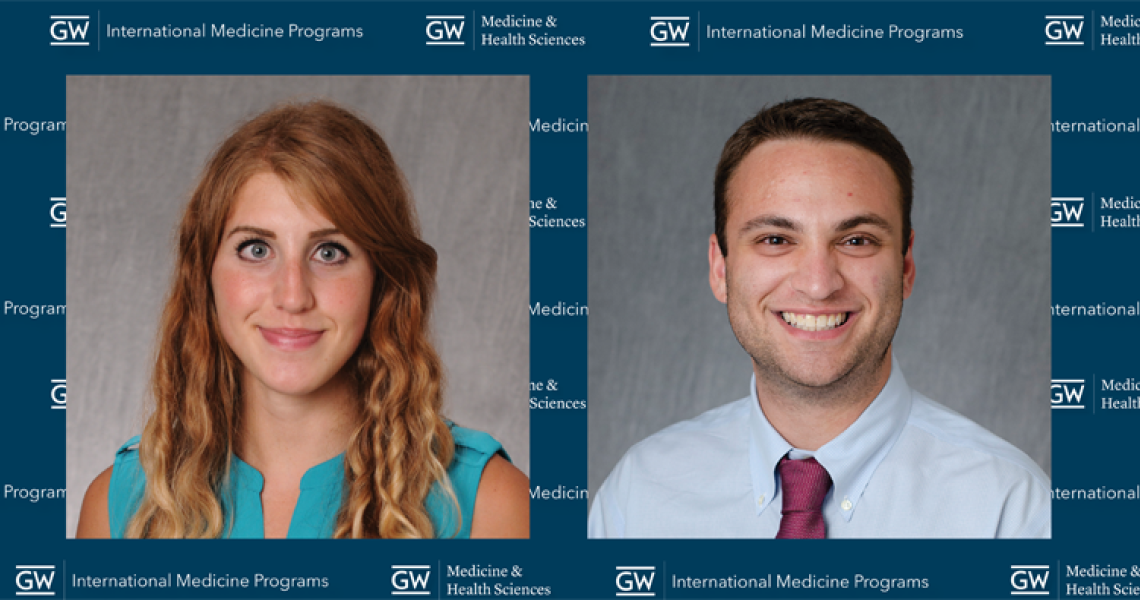 The Office of International Medicine Programs (IMP) at the George Washington University (GW) School of Medicine and Health Sciences (SMHS) supports several opportunities and programs for both GW and international medical students that include the MD Program for International Students, the Global Health Scholarly Concentration Program, as well the Health Equity Scholars Program.
Marya Alsamman and Daniel Muller are two current students at SMHS who have participated in one or more of these programs and who have both spent the past year contributing to several research projects related to their specific interests in medicine.
Marya Alsamman
Marya Alsamman is currently completing her final year in the four-year MD Program for International Students at SMHS, which is managed through IMP. This unique program, one of the few of its kind in the country, provides an opportunity for international students to attend medical school in the United States with the goal of preparing them to return to their home countries to practice medicine, advancing SMHS' mission of improving the health and well-being of local, national, and global communities.
Alsamman is from Saudi Arabia, and she attended Boston University for her undergraduate education before coming to GW to attend medical school. One of the factors that influenced her decision to attend GW was learning about the global health components of the curriculum and the opportunity to study disaster medicine, in addition to the research opportunities available for students at GW.
During her time at GW, Alsamman has focused her attention on supporting several research projects alongside faculty within the emergency medicine department. Emergency medicine is an area that she is particularly passionate about and plans to pursue as her specialty, which she attributes in part to her prior experiences as an emergency medical technician (EMT) during her undergraduate years in Boston.
Alsamman has been working on three different research papers with her mentor, Ali Pourmand, MD, MPH, RDMS, professor of emergency medicine at SMHS. They include a paper, on which she was lead author, published in the American Journal of Emergency Medicine, titled "Non-Respiratory Presentations of COVID 19, A Clinical Review." The paper has already generated considerable attention and has been used in continuing medical education (CME) courses.
Alsamman appreciates the experiences she has had throughout her time at GW, including the opportunity to gain hands-on experience in treating patients. She also highlights how much she has enjoyed collaborating with her fellow students and mentors at GW, who she says have helped to foster a positive learning environment. "I couldn't see myself in a different setting doing as well as I am now, because everyone is so helpful and collaborative."
Alsamman also appreciates all of the help that she received from the IMP team and leadership during her four years at GW. The IMP office remains in close contact with students in the MD Program for International Students throughout their time at GW, to provide guidance and advice, assuring their success in the program.
Most auspiciously, Alsamman was recently accepted into GW's chapter of the Alpha Omega Alpha Honor Medical Society (AΩA), the leading medical honor society for U.S. medical schools. Senior medical students are elected into AΩA based on their academic performance, extracurricular activities, research, and commitment to the community. IMP congratulates Alsamman on this great achievement, in addition to all of her other accomplishments at GW.
Daniel Muller
Daniel Muller is a second-year medical student at SMHS, and a member of the Global Health Scholarly Concentration (GHSC), which is designed to increase students' awareness of international health systems and global diseases. Muller is also part of the Health Equity Scholars Program, which prepares GW medical students to be community-oriented physician-advocates for health equity through experiential learning, community engagement, and mentorship.
Earlier this year, Muller worked on research with Edward O'Neil, MD '87, a GW alumnus and the founder of Omni Med Uganda. Muller supported O'Neil's research focusing on climate change and global health disparities, gathering articles on how health equity has impacted communities around the world. With his specific interest in infectious diseases, Muller also took the opportunity to work with David Diemert, MD, professor of medicine and of microbiology, immunology, and tropical medicine at SMHS, on a report for Diemert's hookworm vaccine trial that took place a few years ago. He also contributed to recruitment and outreach efforts for Diemert's Moderna Phase III vaccine trial for COVID-19.
In addition, Muller worked with Douglas Postels, MD, MS, a pediatric neurologist from Children's National Hospital and global health mentor for the GHSC, on a cerebral malaria study based out of the Democratic Republic of the Congo. Muller focused on pediatric cerebral malaria and how lumbar punctures could potentially be used therapeutically. He also supported a separate project based in Malawi, researching public health responses to cerebral malaria and recent developments in disease prevention and vaccine development.
Overall, Muller says it has been interesting being able to take part in such a wide array of research projects. Not only have these projects allowed him to apply what he has already learned in medical school, but they will also serve to inform his future career in medicine.
Before coming to GW, Muller studied history at Brown University and later attended the University of Cambridge, where he earned a master's degree in history and philosophy of science and medicine. Part of what drew Muller to GW for medical school was the opportunity to focus on issues related to health equity and resource distribution, including through the Health Equity Scholars Program.
Muller looks forward to continuing research at GW that will allow him to advance his knowledge and understanding of infectious diseases and health equity, and to continue exploring important global health issues.