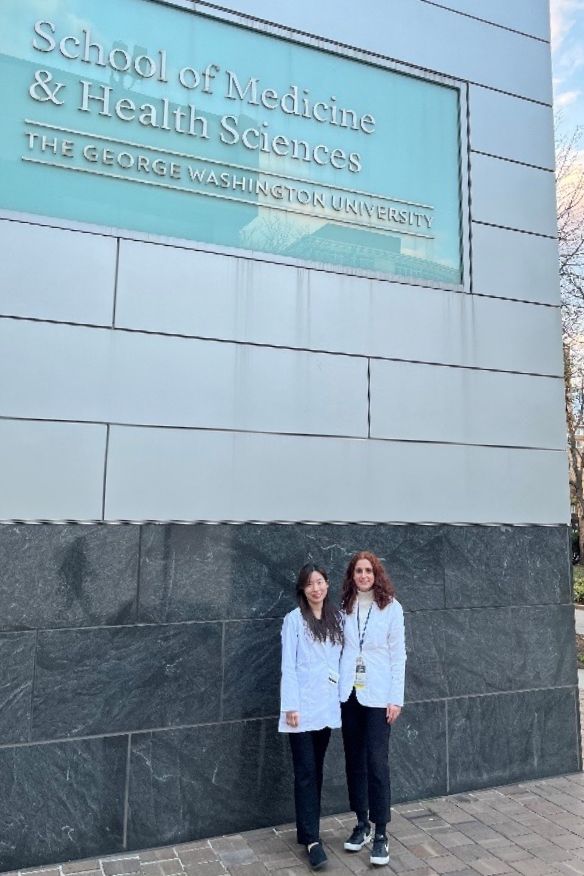 In 2014, the Office of International Medicine Programs (IMP) at the George Washington University (GW) School of Medicine and Health Sciences (SMHS) established an on-campus Summer Research and Medical Enrichment Program (SRMP) for international medical students to attend in-person lectures, seminars, advisement meetings, facilities tours, clinical observations at GW, campus tours of NIH, and social events for the students and their often-accompanying families. When the COVID-19 pandemic forced a temporary closure of the medical campus, IMP quickly modified the program into an online format. After three years, with necessary modifications, this proved to be a practical, affordable, and convenient platform – time zones notwithstanding - for international medical students, especially those interested in Graduate Medical Education (GME) in the United States. In its online format, the newest evolution of the SRMP, while retaining its roots in research education and clinical enrichment, also focuses on counseling, advising, preparation, and professional development, especially amid newly implemented and dramatic changes to USMLE testing and the Electronic Residency Application Service®.
Compared to the on-campus program, the decreased cost of the online SRMP makes it more accessible to international students, thus expanding its geographic distribution. SRMP online has hosted students from 17 countries on five continents, including Bahamas, Bahrain, Barbados, Canada, Ecuador, Germany, Hong Kong, India, Kuwait, Lebanon, the Philippines, Saudi Arabia, South Africa, South Korea, Trinidad, and the United Arab Emirates.
The competitive nature and rapidly changing details of admission into residency training in the United States are particularly challenging for international medical graduates (IMGs) and their mentors at their home universities. IMP's extensive experience, over almost 30 years, in international medical education and training allows us to remain well versed and up to date on the requirements needed for success in matching IMGs into U.S. GME programs. SRMP's ultimate goal is to reach international students interested in GME in the United States early in their medical education, providing them with the guidance, tools, and resources to become competitive and confident candidates by graduation. As a result of the program, participants receive lasting feedback on enhancing their professional portfolios and leveraging their experiences and skills gained through the SRMP.
One major piece of advice given to SRMP students during the program is the importance of completing a clinical elective in the United States. To realize this goal, IMP hosts SRMP alums in clinical rotations at GW through IMP's highly regarded and competitive International Clinical Electives Program (ICEP). This Fall, two online SRMP alumni visited the GW campus for the first time as participants of ICEP. Kristina Nasr from Lebanon (SRMP 2020) and Jiyoon Lim from South Korea (SRMP 2022) spent four weeks in the GW SMHS Department of Medicine.
IMP met with Kristina and Jiyoon after their ICEP rotations to ask how their participation in both IMP programs (SRMP and ICEP) has helped them prepare for their plans in the United States.
How did your participation in the online SRMP impact your educational and career goals?
Kristina: I always knew I wanted to pursue a residency in the United States, so I felt that SRMP could open more doors for me and give me contact with the right people at GW … . How did it impact me? It validated what I wanted to know about U.S. medical and health care systems and made me more confident of my decision to pursue residency here.
Jiyoon: For Korean medical graduates, there is little time available during medical school to be involved in research. This program [SRMP] gave me the first opportunity to apply research concepts … after SRMP, I felt more confident pursuing research opportunities in my home country and the United States.
What surprised you the most during your clinical rotation at GW?
Kristina: It's nice seeing the multidisciplinary approach to patient care. I was amazed by how each team member works together to provide the best patient care possible. You feel a whole team working to make a patient's life better. In my home country, only the attending physician plays these multiple roles. One person can only wear so many hats. You can imagine that the standard of care would be good from a medical perspective but may be lacking from a social or holistic perspective.
Jiyoon: I was surprised by how well all the various teams work together and are very supportive. Even if they are young or a student, everyone respects each other and work toward the same goal of helping the patient improve. Also, in Korea, I am accustomed to seeing about a hundred patients daily while on rounds. Here, I value the time we can afford the patients.
Do you think your participation in SRMP and ICEP has made you a stronger candidate for residency (or research fellowships) in the United States? If so, how?
Kristina: It's a question yet to be answered. It has helped me create those connections with the faculty at GW and gave me a sneak peak of what I would expect later on working within this healthcare system.
Jiyoon: I am more confident than before. For example, with research, I had no experience before this, but after, I have the right direction and connections for my future endeavors in research.
IMP is proud to build bridges for driven and talented students like Jiyoon and Kristina. The SRMP will be offered online again during the summer of 2023. Any interested students are encouraged to contact IMP at impinfo@gwu.edu.