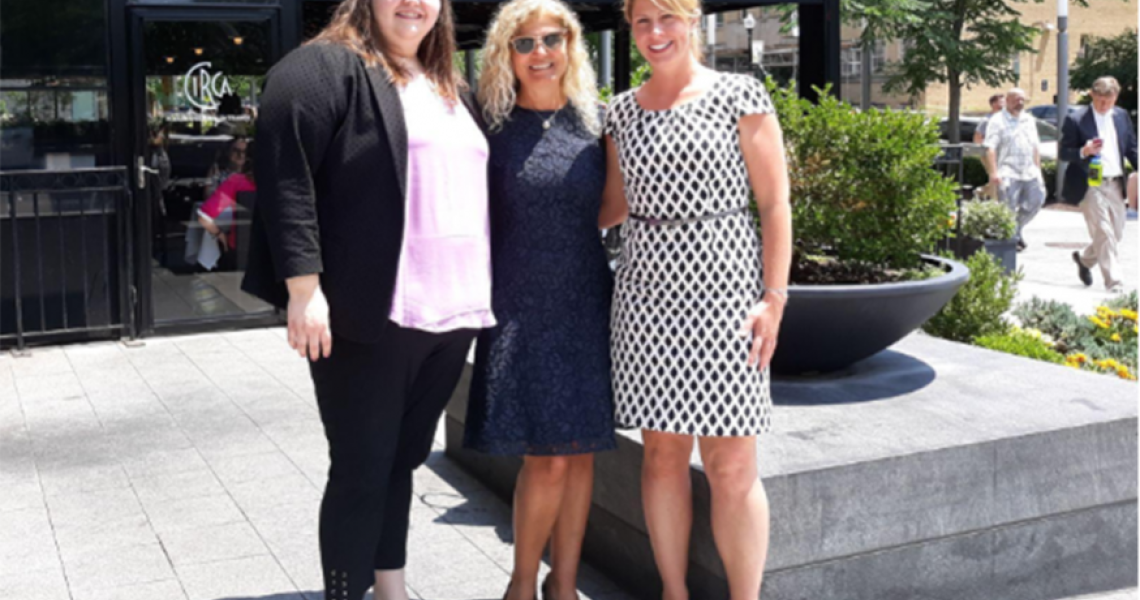 The Office of International Medicine Programs (IMP) at the George Washington University (GW) School of Medicine and Health Sciences (SMHS) is proud to have partnered with more than 30 international institutions for our International Clinical Electives Program (ICEP). For more than a quarter century, GW and international medical students have participated in this international exchange program, allowing them to gain diversified knowledge and experience in health care systems unlike their own.
One of IMP's longest running ICEP partnerships is with the Medical University of Graz (Med Uni Graz), located in Graz, Austria. Since 2005, seven GW medical students have traveled to Graz and immersed themselves in hands-on learning of the Austrian medical system and culture, while a total of 33 Med Uni Graz students have rotated at GW, gaining a deeper understanding of the American health care system through renowned faculty at SMHS.
IMP most recently hosted three Med Uni Graz students in 2019, prior to the suspension of in-person international clinical rotations during COVID-19. Two of the students participated in pediatric rotations at Children's National Hospital in Washington, D.C., and another student completed two separate electives in internal medicine and pathology, both at GW Hospital.
In addition to Med Uni Graz, IMP also has a long-standing partnership with The American Austrian Foundation (AAF) in Austria. AAF is a non-profit, non-governmental organization that seeks to strengthen the relationship between the U.S. and Austria by offering exchanges in medicine, science, communications, and the arts. AAF, along with the Max Kade Foundation, sponsors one-month exchanges for medical students through the AAF/Max Kade Fellowship.
Since this partnership launched, a total of 56 medical students from GW have received scholarship funding through AAF/Max Kade, giving them the opportunity to complete their clinical rotations in Austria. Likewise, Austrian students, including those from Med Uni Graz and other medical schools in the country, have been selected for this fellowship to complete their clinical rotations at GW. AAF and Max Kade were recognized by GW SMHS at IMP's 2014 annual dinner with an award for their efforts and dedication to supporting opportunities for GW medical students to gain exposure to the Austrian health care system. 
With the temporary suspension of in-person rotations at GW, medical students from Med Uni Graz now have the opportunity to benefit from ICEP's virtual programming. These virtual options were introduced during COVID for international medical students interested in participating in clinical electives through GW. ICEP students also have access to IMP's new Virtual Research Training Program for precision medicine, along with the option to take select online courses in other GW departments.
Additionally, starting this summer, Med Uni Graz will be offering GW medical students the opportunity to participate in its hybrid Educational Course in Paediatric Medicine and take advantage of online lectures, interactive case presentations, and community discussions with the students on site in Graz.
In the coming years, IMP plans to continue to offer flexible options that will allow students to overcome common barriers to travel, including airfare, housing costs, and other personal commitments, by introducing additional opportunities for online research. Together with Heidrun Moertl, director of the international office at Med Uni Graz, the IMP team looks forward to strengthening this partnership in the coming years and continuing to provide transformational opportunities for medical students from GW and Med Uni Graz.