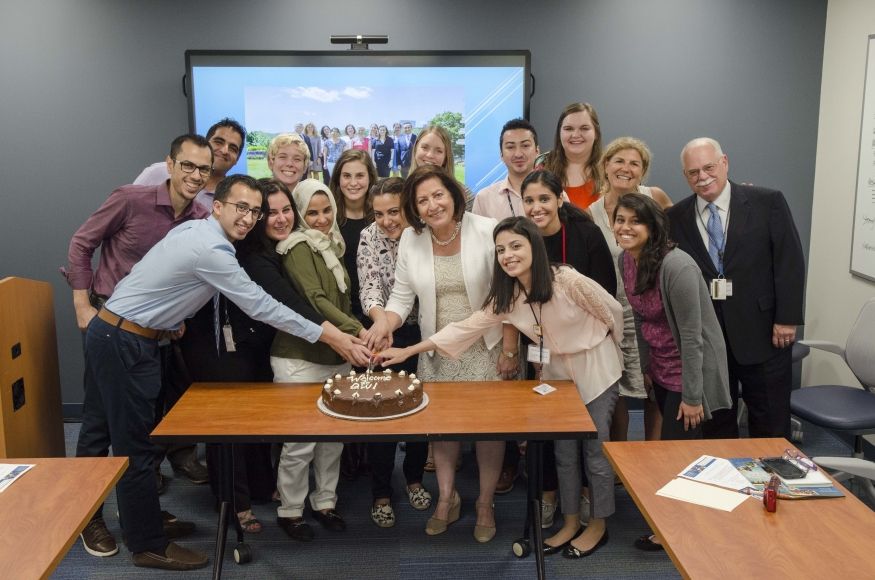 Introduction
The International Sponsored Residency Program at George Washington University School of Medicine and Health Sciences (SMHS) is a graduate medical training program designed to provide a strong clinical experience, as well as a basic overview of the American medical system as it is carried out at SMHS. Residents can expect to participate, with their American colleagues, in the work of a medical school that enjoys an outstanding international reputation for interdisciplinary coordination of education, research, diagnosis and treatment. 
Goals
The goal of this program is to provide a strong clinical experience as well as a basic overview of the American medical system as it is carried out at SMHS.
Application Process
Applications are only accepted through the Electronic Residency Application Service (ERAS) and all positions are offered at the MATCH through the National Residency Matching Program (NRMP). The candidate must register for both ERAS and the National Residency Match Program (NRMP). A candidate who has not registered with the NRMP cannot be considered during the ranking process.
Step 1: Register for the MyERAS® Portal for Residency
Step 2: prepare your ERAS application. The application portfolio generally includes these components:
myERAS application 
Curriculum vitae (CV)
Three letters of recommendation
Personal statement
Medical school transcripts
Medical Student Performance Evaluation (MSPE)
Licensing exam transcript ( USMLE Step 1, USMLE Step 2)
Step 3: Submit your ERAS application to GW residency program 
Step 4: email the Office of International Medicine Programs IMP at impinfo@gwu.edu with your AAMC #, the specialty you have applied for and a copy of your financial sponsorship letter. 
Preferred requirements for International Medical Graduates IMGs
At least 4 weeks of hands-on US clinical experience is preferred. We encourage applicants to have as much US clinical experience as possible. 
At least one letter of recommendation must be from a US clinician with whom you have worked. 
Graduation from medical school and/or practicing clinical medicine ideally within the last 3 years. 
ECFMG certificate - You do not need to be ECFMG certified at the time of application, but you must be qualified to obtain this certification before the rank list deadline.  
We only accommodate J1 visas. 
For more information about the program, its eligibility criteria, and application/admission process, please click here. 
If you have questions about the program, please email us at impinfo@gwu.edu.
Essential Links