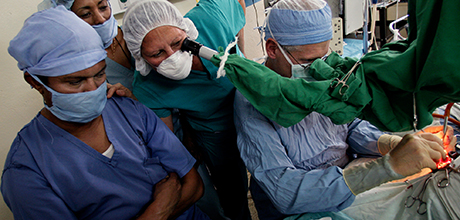 Introduction
The Observer Training program is designed for all international medical graduates who wish to update their clinical and educational skills in a particular specialty. Each observer will be matched with a faculty member who will serve as their mentor during their observer training at The GW School of Medicine and Health Sciences (SMHS). This program will allow important relationships to develop between SMHS and the sponsoring institution or agency. We believe that an important goal of international collaborations is to exchange knowledge and develop and maintain relationships with colleagues from around the world.
Goals
The goal of this program is to provide a strong clinical experience, as well as a basic overview of the American medical system as it is carried out at SMHS. Observers can expect to participate, with their American colleagues, in the work of a medical school that enjoys an outstanding international reputation for interdisciplinary coordination of education, research, diagnosis and treatment.
Please submit all required documents in one PDF document to impinfo@gwu.edu. Use the program name to which you are applying as the heading in the subject of the email. Applications cannot be processed until all required documents are submitted.
Click here for a full program description and admissions requirements. 
**Please note IMP is no longer accepting applications for the Observer Training Program.